When we started looking at Anita Dongre's work, we simply couldn't stop! As we saw AND catering urban formal wear for the Indian women, we were EAGER to know what's more in the store.
We jumped onto her next brand Global Desi which was launched in 2007 and its first outlet was set-up in Mauritius, in 2008.
This brand was inspired by the designers' college days and hence delivered boho-chic wear for women, the kind of garments she used to wear in her college days.
From Global Desi website
Dongre raised in Mumbai by her parents, used to visit her grandparents in Jaipur, Rajasthan. She fell in love with Jaipur's colors, liveliness, and vibrant culture and her love poured out into her brands. Her brand Global Desi identifies and is inspired by Indian folklore and takes desi to a global level!
The prints, colors, and stories behind their collections are desi whereas the silhouettes are western, bringing in the Indo-western wear.
The brand targets women between ages 18 to 35, who have a knack for Indian prints nationally, as well as globally.
Comfort, functionality, and style stand under the roof of the House of Anita Dongre.
Whereas Global Desi adds its leaf of boho-chic wear for women. GD offers pieces of similar design with varying sleeve lengths and hemlines for consumers who do not choose bold strappy tops.
Anita Dongre's vision of creating affordable designer wear stands through Global Desi too.
The price range here is between Rs.1,000 to Rs.6,000, not taking into account the End of Season Sales which drops the prices 50-70%.
Global Desi's spring/summer 2020 collection, named JALSA – which means celebration – celebrates sisterhood. Making coming back to a place that feels like home and of memories no less than a sweet celebration.
Comfort, class, chic-i-ness are all felt through the collection's designs and visuals. The color palette chosen gives the wearer a comfortable, soothing, lively vibe to them enhanced by the free flowy silhouettes used.
From Global Desi Website
This sage green Gharara-style jumpsuit gives the wearer a fun, fancy, comfortable feel with the additional V-neckline, making it alluring with the fit and flare silhouette.
From Global Desi Website
From Global Desi Website
For somebody who doesn't want to pick the strappy shouldered jumpsuit can choose to pick this half-sleeve V-neck blue Gharara Jumpsuit. Another similar thoughtful option for the Indian wearer.
From Global Desi Website
This mustard, white floral printed, gathered tiers Midi, which makes it a cool blend of style, comfort, and design.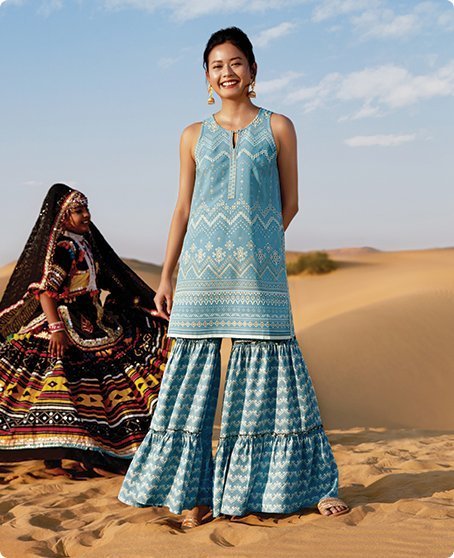 From Global Desi Website
The light blue, printed Gharara set with a keyhole neckline and broad shoulder straps talks of comfort, breeziness, beauty, and elegance. Who said fashion has to be uncomfortable, we'd rather pick this.
From Global Desi Website
The Teal color chosen for the jumpsuit calls out the fun, bold, energetic side of the woman in you. Where the sleeveless, fit and flare silhouette makes it chic, the embroidery gives it an Indian touch.
Anita Dongre's designs never leave you feeling 'I'm not so sure..', they're more like 'YEAHH! That's what I wanted!
The soothing feeling of finding the right dress *satisfied sighs*.
Did we tell you that Global Desi care has set up Community Tailoring Units in rural Maharashtra, where women in need are trained professionally to make garments? Well, now you know.
From TCT Branding
It's just, responsible fashion – check
Economic and Social Responsibility – check
Comfort and broken stereotypes – check
Desi – check
Makes you cry happy tears, doesn't it?
We hope the insight was helpful, inspiring and informative.
Tell us what you think in the comments below.